Cylindrical Water Tank
Product Detail
Product Tags
Product brief introduction
Cylindrical Water Tank is made by reinforced fabric with PVC/ TPU coated and showing a cylindrical shape when the tank is full.
It can be used to store industrial water, fire water, rainwater harvesting, irrigation water, concrete mixing water, slope green water, sewage water storage and oil well cementing.
Its advantages are: can be folded when empty, the weight light and easy to transport, on-site installation is simple, long life and low maintenance costs.
Specifications:
Materials: 0.9mm--1.5mm tarpaulin with EN71,ASTM standard
Material: 500L--500,000L
Technique: heat welding
Feature:
UV resistant / Mildew resistant /Durable and beautiful 
The resistance to temperature is very good.within ± 50 ° C will not change the shape and material.
The material main component is polyvinyl chloride, adding antioxidants, non-toxic, molecularly stable, not easy to adhere to dirt, and do not breed bacteria.
Small folding size , light weight, easy to transport and disassemble quickly , especially suitable for the storage space is not enough or the storage equipment is difficult to enter the site.
The condition of empty loading can fold below 5% of the total volume, saving space for easy storage.
With a strong oil resistance, sealing performance, resistance to ultraviolet aging proof performance.
There are many different kinds of accessories can be choose , meet the needs of the various caliber pump .
Based on the quick coupling, convenient disassembly
Easy to loading and discharge
| | | | | | |
| --- | --- | --- | --- | --- | --- |
| Volume in m3 | Expansion dimension (LxW)in m |  Fully-loaded height in m |  Volume in m3 |  Expansion dimension (LxW)in m | Fully-loaded height in m |
| 0.2 | 1.0*0.5 | 0.4 | 30 | 9.0*4.8 | 0.7 |
| 0.5 | 1.5*0.7 | 0.5 | 40 | 10.0*5.0 | 0.8 |
| 1 | 2.0*1.0 | 0.5 | 60 | 10.0*6.0 | 1.0 |
| 2 | 2.5*1.3 | 0.6 | 100 | 10.0*7.2 | 1.4 |
| 5 | 4.0*2.1 | 0.6 | 200 | 14.0*9.0 | 1.6 |
| 10 | 6.0*2.8 | 0.6 | 300 | 17..6*10.0 | 1.7 |
| 20 | 8.0*3.5 | 0.7 | 400 | 19.2*11.6 | 1.8 |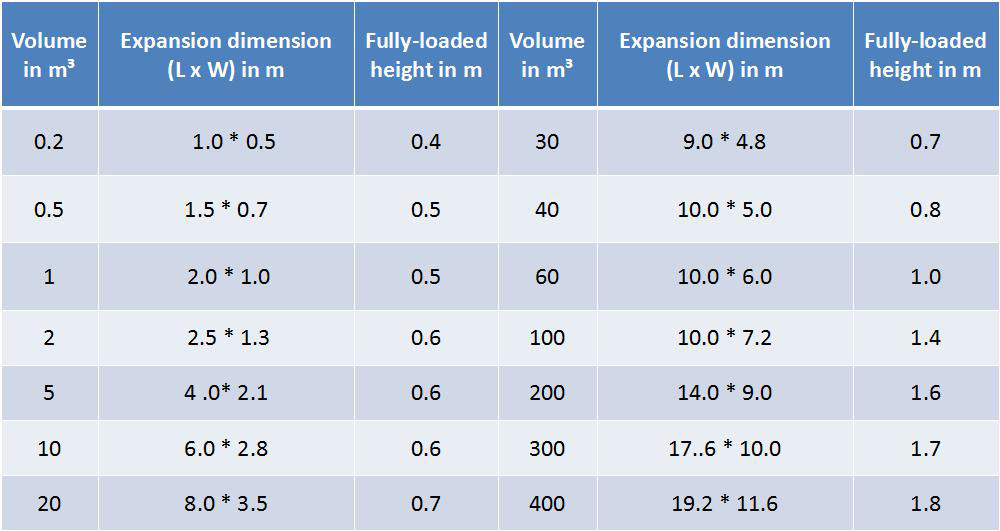 ---
Previous:
Rectangular Water Tank
Next:
Onion Tank
---
Write your message here and send it to us