Onion Tank
Product Detail
Product Tags
The onion tank can stands by itself. It is widely used in fish farm , fire protection, household to store water . It is open top and less occupied area , it is very convenient in arid region. 
It can be used to store industrial water, fire water, rainwater harvesting, irrigation water, concrete mixing water, slope green water, sewage water.
Its advantages are: can be folded when empty, the weight light and easy to transport, on-site installation is simple, long life and low maintenance costs.
Specifications:
Materials: 0.9mm--1.5mm PVC tarpaulin with EN71,ASTM standard
Material: 500L--500,000L
Technique: heat welding
Feature:
UV resistant / Mildew resistant /Durable and beautiful 
The resistance to temperature is very good.within ± 50 ° C will not change the shape and material.
The material main component is polyvinyl chloride, adding antioxidants, non-toxic, molecularly stable, not easy to adhere to dirt, and do not breed bacteria.
Stand by itself, easy to use, less occupied area
Can serve as a swimming pool and fish tank.
Less material, so the price is lower than other shapes.
Easy moving, folding is small in size.
| | | | | | |
| --- | --- | --- | --- | --- | --- |
| Volume in m3 | Expansion dimension(Top Diameterx BottomDiameter)in m | Fully-loaded heightin m | Volume in m3 |  Expansion dimension (Top Diameter x Bottom Diameter) in m |  Fully-loaded heightin m |
| 0.2 | 0.5*0.85 | 0.6 | 5 | 2.0*3.4 | 1 |
| 0.3 | 0.65*1.0 | 0.6 | 8 | 2.3*3.5 | 1.2 |
| 0.5 | 0.7*1.2 | 0.7 | 10 | 2.0*4.0 | 1.4 |
| 1 | 0.8*1.8 | 0.8 | 20 | 3.4*4.8 | 1.5 |
| 2 | 1.4*2.4 | 0.8 | 30 | 4.2*6.0 | 1.5 |
| 3 | 1.5*2.6 | 0.9 | 50 | 4.6*8.0 | 1.6 |
| 4 | 1.6*2.8 | 1.1 | 75 | 9.2*5.2 | 1.8 |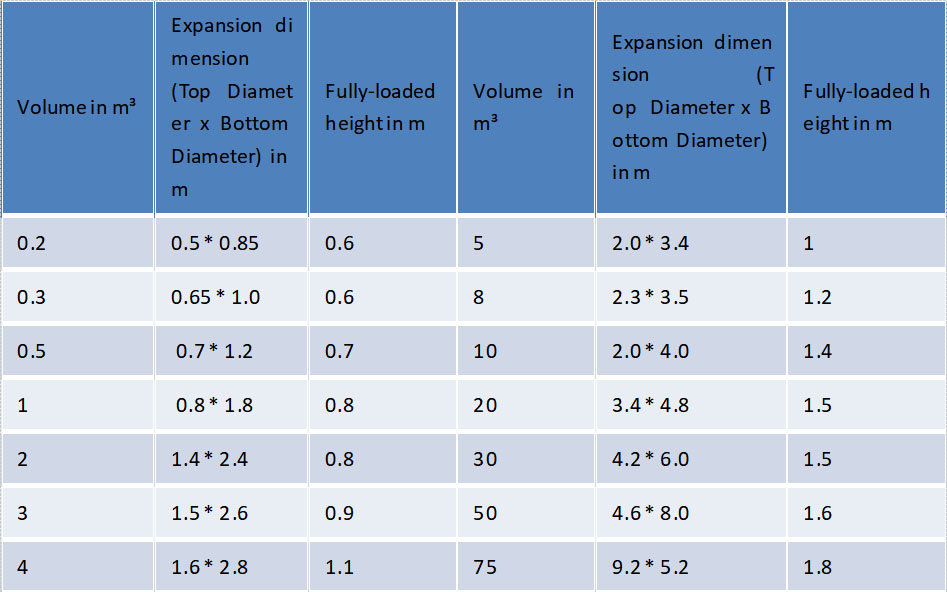 ---
Previous:
Cylindrical Water Tank
---
Write your message here and send it to us